Belay Device Friction Test
by Mark Silliman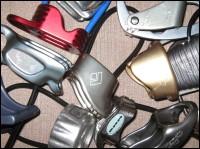 Belay Devices
Spadout.com
More than a dozen "tube style" belay devices are on the market. Each device is safe, at a similar price point, and lighter than a Big Mac. So the question is, what sets them apart?
We believe two key factors that distinguish belay devices are the range of friction the device can provide as well as the maximum friction it can achieve. You want low friction when feeding the rope and high friction when locking-off. If you are new to belay devices please read our Belay Devices 101 article first.
Method
We measured the friction each device creates at 45 degrees above the horizontal axis (feed test) and 55 degrees below it (lock-off test). These measurements were taken on 8, 10 and 11mm ropes. Ten results were taken for each scenario (60 total tests per belay device: each of the three ropes was tested at two angles, 10 times per angle).
Full Results
mandryd

2008-12-10
I appreciate the scientific nature of this study, but I feel this study could be better as I don't believe it truly addresses the needs of climbers.

What do I look for in a sport ATC?
-easy feeding yes. however, 45 degrees is not enough angle for those who belay palm up. I feed at probably 70 degrees. I believe even palm down belayers will use more angle than 45.
-solid lock off at full lock. Basically any ATC can catch a climber at 55 degree lock. What we're really looking for is friction at full lock for those times when your climber is hang dogging. I know you mention this in your article, but there are HUGE differences in full lock off performance...ie the standard BD ATC. That was my first ATC and I remember trying to hold people on a 9.8mm rope with that ATC was a nightmare even at full lock. My trango jaws, in comparison, is effortless at full lock. The catch of a fall is only a short instant. If the climber is hang dogging, then the belayer will son switch to a full lock off and thus this is why i stress the increased importance of results at full lock.
beesknees

2008-12-10
what is this telling me? this isn't the friction at a lock off, nor is it the friction generated by a belay device when i'm feeding slack. this is crap. just like the rubber test that only weighted the samples with 100 grams.
iron106

2008-12-11
Beesknees

"almost all the belay devices could hold the entire weight if we just allowed the 3 ounce scale to hang at -90 degrees (when the 10 or 11mm rope was used). "

There is useful info here.


markanite

2008-12-11
As iron106 pointed out, none of the devices have trouble locking off at -90. Also if you lock off on your side you're actually no where near -90. +90 (which i'm presuming you consider "feeding slack") removes almost all the friction from the belay device (because both ropes are pointing up and neither is bending around the device). Therefore measuring this would provide near identical results for each device (making it pointless).
mandryd

2008-12-11
did you actually test results for this with a meaningful amount of weight? Where are your results to proove this statement? i guarantee you if you put 200 pounds on the end of the rope and put it at full lock you will find significant differences.

also when feeding slack it's more of a transition movement from lock to full open. to pretend that measuring at 45 degrees is representative of the true slack feeding process is ludicrous. the "resistance" you often feel is the friction at lesser degrees. ALSO some devices when in full lock will bite down on the rope. This also contributes to the ease of feeding out slack after a belayer has placed the rope in a full lock position.

if you are going to make a scientific article with real statistics, be careful of putting in statements that are not supported. Belaying is a much more complex procedure than +45 and -55 degrees. I appreciate the effort though and keep up the good/backbreaking work.
wyosae67

2008-12-12
devices could be compared better by dropping a known weight from a with the rope in static condition (i.e. pre-tensioned, with static rope) with the brake end of the rope wrapped around a capstan pulley with a shaft attached to a brake and dynamo meter. the break would then be released allowing the weight to start falling. the capstan pulley attached would then be swung at a constant angular vecolity from theta equal to 90 to -90 (i.e feeding to braking). the dynamo meter would capture the torque speed curves which could then be related to force and speed of the rope based on pulley geometry. Then you could compare the friction of each device more accurately from the instantaneous normal force on the device from the rope as well as the velocity (because friction could be modeled as a function of velocity in mxdd +cxd +kx = F(x)) you would also be able to compare the start and stop times (or angles). Just a thought if anyone want to pay me to do this let me know (i can do a cheap dynamo meter with a dc motor (Ki and Kv have to be known) and a fluke scope.
beesknees

2008-12-14
it's not a question of whether they lock off or not. if it didn't, this wouldn't be a very effective belay device, now would it? "LOCK OFF" is a relative term, as every device lets some slack through as it slows the fall. so, a more effective study would compare this factor. more slack through the device = less force on your gear - this is why R rated trad gear shouldn't be placed when they belayer uses a grigri or sum. those stop the rope too quickly and risk blowing your gear. so, i ask again, WTF is this telling anyone? it doesn't tell me how a belay device functions in any sort of relevant situation. i already know that any marketed belay device can lock off and can feed slack. big deal.
iron106

2008-12-24


"The reasoning for this is that new climbers can look at this data an easily determine which devices are optimal for their rope. In any test setup simplification is obviously necessary to make the data quickly readable. I would strongly encourage more experienced climbers to analyze the data in greater detail."

Maybe you should analyze the data in greater detail. Plus this tells you more information than you can find anywhere else on these products.


parin

2008-12-31
Wow, I've never seen so many climbers emotional about someone presenting free data. Dudes, feel free to rate as you see fit, but consider the constructive reply:

Thank you for doing a lot of work gathering data in a sport where numbers are life and death. I question the significance and correctness of your conclusions. How quickly one can take in slack and feed out rope does matter. But it takes a distant second or third, to how well will a belay device will keep pro in the wall. For me personally, given strict equality in the latter, I may be interested in the latter.

wyosae67's suggestion is excellent. It would be very cool to see how the bistability forms from a full 360 angle sweep and how that changes from rope to rope and belay device to belay device. If you want to do some theory you can translate those curves directly to the "softness of the catch" using only a couple phenomenological parameters. Just put a Rayleigh dissipation function in the Lagrangian for whatever system you chose.

It is better to simply gather graphs of data and let the teenage-girls, that are climbers, draw their own conclusions based on objectivity or self-righteousness. Belay systems are deceptively complex, just read the device setup considered in John Long's new(ish) anchor book. And as beeskness claims, there JL presents definitively that slip at belay takes the "load" out of "shock-load".
sixleggedinsect

2009-01-01
from the full text: "For multipitch climbers, I strongly recommend an auto-blocking device predominately for use as an emergency ascender."

??
pbjosh

2009-01-07
This is another terrible test. You guys should team up with 8a.nu!
Add a Comment