Mountain Pictures From all Over the World - Contest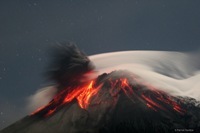 Photo by Patrick Taschler
The currently biggest photo contest worldwide on mountain pictures, the National Geographic Photo Contest 2012 by IMS and KIKU enters final round now. The numbers of this year edition are already impressive. More than 1800 photographers from almost 100 countries have sent their mountain pictures and compete in order to win the KIKU Photo-Award in the amount of 6.000 Euro.
Until August 31st, 2012 photographers from all over the world can upload their pictures on the website of the International Mountain Summit (www.IMS.bz) under the motto "Mountain.Traces.".
On September 1st, the public voting will start and in fact the whole world can participate in the voting, by choosing their five favourite pictures and determine the winners of the various prizes, which will be provided by Nikon, Arc'teryx, AKU, KIKU and the partners of the photo contest.
At the same time an expert jury, under the leadership of the editor in-chief of National Geographic Germany, Erwin Brunner, will choose the three winners within the thousands of submitted pictures. The photographers of the winner photos will be invited to the IMS 2012 and will be awarded on October 20th in the opening session of the IMS.
For the coordinator of the Photo Contest, Chiara Agreiter, the overwhelming international success of the contest is the result of a good teamwork: "Through this photo contest the International Mountain Summit will be recognized by mountain lovers in more than 100 countries around the whole globe.
The IMS takes place from October 20th - 27th , 2012 in Brixen/Bressanone South Tyrol. Further information is available at www.IMS.bz