13 Year Old to Tackle Everest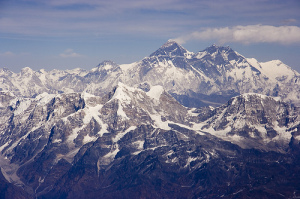 Mount Everest
Photo by r12a
Tackling Mount Everest is no easy task, hundreds have died at the hands of the cruel weather present on the world's highest mountain. Temperatures can drop to 100 degrees below zero and winds can reach in excess of 80 mph.
Though these risks don't seem to deter 13 year old Jordan Romero, who plans to attempt climbing this 29, 035 foot beast of a mountain. If he succeeds he will be the youngest person to complete this climb, though his father who remained optimistic says that should they not be able to complete the climb the first time around, there would be more attempts in the future.
Jordan's climbing goal, which is to conquer all 7 summits started when he was only 9 years old and was inspired by a school mural. Where many parents would have passed this off as just another fad, which is all too common in kids- His father, Paul Romero took his sons ambitions to heart. He explained to Jordan the risks and required preparation for such a goal, where-after they began training.
Jordan already has quite a comprehensive list of accomplishments, having already conquered Mt. Kilimanjaro (Africa's highest peak) and Mt. Kosciuszko (Australia's highest peak) at the age of 10. Mt. Elbrus (Europe's highest peak), Mt. Aconcagua (South America's highest peak) and Mt. Aconcagua (South America's highest peak) at the age of 11 and finally Carstensz Pyramid (Oceania's highest peak) at the age of 13.
One of the primary factors in such a situation is whether the kid actually understands the dangers involved, in this case Jordan appears to understand exactly the situation he will be putting himself into and is well aware of the deaths caused each year in the process of ascending Mount Everest. One of the primary risks of climbing to this height is the lack of oxygen available at that height above sea level, where climbers often struggle to breath, though this is often a sign of when one should stop- and should the warning signs given by the body be acknowledged and handled correctly there shouldn't be much to worry about.
sjderis

2010-04-22
I cant spank my kid when he misbehaves but this guy can allow his kid to put himself in REAL mortal danger without a CPS throwing his ass in a slammer... WOW
Kartessa

2010-04-22
Well the kid will set a record... either youngest person to the summit, or youngest kid dead near the top. Hey, maybe both!

Somebody should slap his parents.
harlieclimbing

2010-04-22
hahaha. lucky kid. i had to write a persusive essay to get my parents 2 let me free solo. and even then, i have a hieght limit.
oldsalt

2010-04-22
harlie:

Your parents [i]let[/i] you free solo? What did you do to p*ss off your parents?
Lazlo

2010-04-22
Lol to Oldsalt
core

2010-04-23
Good for you guys! I can't wait to push my young son to do all things I never did! :)
ontheedge

2010-04-24
Yall sholudnt be jealous of this kid. those kids are who grom up and save you ass when ur stuck on a mountain top. Good redince climb on little man i will be looking for this little kid to set a record. Heart body SoUl And mind put all the into it and you will be on top of the world. GoOd LucK.
Sammity

2010-04-26
You GO JORDAN!!! It would be nice if more parents would take their kids' passions more seriously. BE CAREFUL THOUGH little man!
abe_ascends

2010-04-26
I love handbags!!!!!!

Wait. What?
bigmountainman8

2010-04-27
Let's go Jordan you've got this! It's I'm 2 years younger than you and since I was 8 I've wanted to scale Everest. So when you make it you will be my inspiration man!
climbingmomma

2010-04-27
This is an amazing goal, I hope you achieve your goal without to many complications. What an inspiration! I wish someone introduce me to hiking and climbing at a younger age.
durfey

2010-04-30
I agree someone should slap his parents. Why isnt this kid in school getting eduacated? We will have another uneducated, overpaid celebrity athlete on the lose. Terrible.
ACJ

2010-05-02
Not a fan, mainly because it's so publicized. If it's really his goal, why is he in magazines and the internet? That pressure and exposure will skew anyones judgement, wether you are a 13 year old kid or a very experienced guide.
ClimbSoHigh

2010-05-03
I love contributing my useless insight but here we go!

1. Not sure if this a good thing. Yeah its good to support your kids goals, but something makes me feel like this is more for dad than the kid. I seriously doubt that some kid saw some peaks in school and decided, hey I want to train for years to break a record. Dad definately pushed him toward that decision, considering dad is also training and is probably summiting the mountains with him. I hope Jordan realizes that dad's obsession (err Jordans dream) will alienate him from his peers in a time when Jordan is probably searching for his nitch in life. Not to mention he is missing out on his childhood.

2. Is it ok to push your kid to this kind of goal? I would think not but I know I will be pushing my kids to rope up as soon as my kids can walk. Is it wrong... probably but I'll still push my kids to get into climbing. I just hope I push my kids so they can experience the things I found great in life and not live thorugh my kids life.

3. I personally am disgusted at how much money dad must be throwing at his (err i mean his kids) pursuit of a world record. I had to save for years to complete my used rack. I think I am more jelous than disgusted though.

4. And lastly and most importantly, what is the big fuckin deal with everest! Thousands of people have summited it and I can't see why anyone would want to suffer to join the masses on the field trips to the top. I mean there are outfitters that will take you to the top and all you have to carry is the clothes you are wearing, and a personal perter takes care of everything else. (Shelter, cooking, hauling, etc) I understood the buzz about everest when it was something for the very elite few, and the routes were unmarked and incredibly dangerous. Now someone with no mountaineering experience, decent physical abilities, and plenty of money can get to the summit within a year of hiring an expert.
crimpman

2010-05-05
Shoot I would have done it at age 12 if my parents could afford it. Spoiled kid in my biased opinion. You'll see him on the morning show soon
erick

2010-05-07
i agree with climbsohigh...especially your 1st and 4th...
meplayoutside

2010-05-13
Sounds like a bunch of ninnies gossiping over the fence. Everyone climbs for different reasons, and everyone has their limitations. If the kid wants to and has the means of doing it, he's going to do it. And then it'll be history.
TomUK

2010-05-15
Someone said Everest was easy? I'm not sure what they're talking about to be honest, maybe you're jealous or not up to it mentally or something! Pushy parents are a terrible thing but supportive ones area great. Go for it i say!
oldtradclimber

2010-05-21
My only issue with a 13 year old going to Everest is brain damage. The young brain is VERY easy to damage (it is why children suffer so more much from lead poisoning than adults), and if his O2 system fails, who knows what would happen. I know the kid will have bragging rights for a while if he makes, but if those bragging rights come with brain damage, is it worth it?
sjderis

2010-05-22
We'll he made it - he's happy - his parents can write a book and cash in with all the publicity and life is good right?
Bowman_15

2010-05-22
Congrats to him for making it
texaspride86

2010-05-25
props to you little man. most kids his age wont even go outside away from their xbox and such. this kids dad has him outside and not dependant on 21 century technology(computers) i wish him the best of luck
Add a Comment