Next

Climbing Faster, Stronger, Healthier: Beyond the Basics
Item Details
|
Reviews
(
2
)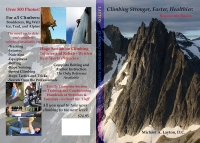 Manufacturer:
Booksurge



This item may be available at:
Description
Features From the back cover
For all climbers: boulderers, big wall, ice, trad, and alpine
The most complete and up to date reference on: Training, Nutrition, Injuries, Equipment, Bolting, Rope Soloing, Speed Climbing, Rope Tactics and Tricks, Secrets from the Professionals
Reviews from the book:
"Vital information! I wish I had this information when I began climbing. There is such a gold mine of information here that it almost feels like cheating."
–Fred Beckey: Author of The Cascade Alpine Guide series, Range of Glaciers, Challenge of the North Cascades, Mount McKinley: Icy Crown of North America, The Bugaboos: An Alpine History, and one of the most accomplished climbers to ever have lived.
"Climbers of all disciplines will find this a valuable resource for improving their fitness, skill and performance. It is packed with useful information that is a reflection of Mike's broad experiences as both an alpinist and a health care professional."
-Mark Westman: Accomplished Alaskan extreme alpinist
"I like what I see…spoken in a voice of someone both determined to help others learn and someone with insight. The ground cover[ed] is enormous. This is not a chest thumping attempt to show off what you know. It is an honest, provocative, analysis of what a serious climber should be thinking about 365 days a year. Seasoned climbers may or may not agree with every sentence in this expansive coverage. But no one can argue that you have offered a series of topics that every climber should eventually delve into if they wish to reach the highest levels of the discipline."
–Carlos Buhler: Author for National Geographic, motivational speaker, extreme high-altitude alpinist, recipient of the Underhill Award, Mugs Stump Award, and the Spitzer Award.
"Layton nailed it! This book is destined to become the bible on climbing stronger, faster, and healthier. No other book on these subjects offers such thorough and up to date information. Dr. Layton has written the 'New Testament' for climbers."
-Jim Nelson: Author of "Selected Climbs in the North Cascades" Volumes I & II, owner of Pro Mountain Sports, and accomplished first ascensionist.
"An incredible resource for every climber's library. Dr. Layton's expertise as an accomplished climber and as an excellent doctor really shows."
–Cameron Burns: Author of "Selected Climbs of the Desert Southwest", "Climbing Colorado's Fourteeners", "Kilimanjaro& East Africa: Climbing and Trekking Guide", "Colorado Ice Climber's Guide", and pioneer of hundreds of desert climbs.
"Layton's years of mountain experience and passion absolutely shine through. It's a boiled down encyclopedia of absolute best-climbing-practices that can only have been gleaned from years on the sharp-end of all varieties of mountain environment. Layton has landed on a winning recipe of delivering the full package to the modern climber. This book all about providing climbers of all types with the most efficient, logical and thoughtful methods of improving your vertical game, and the trick is to read these sections as you need to build that strength. There's an endless flow of nuggets that just can't be gained from any other way (up until now!) than by suffering through the trials and tribulations of the sharp end. Even the most experienced ropeguns and hardened mountaineers will be able to glean some gems from this collection of wisdom."
–Lyle Knight: Author of "Central BC Rock: The Rockclimbers Guide to Central British Columbia", and accomplished climber.
"I recently had the privilege to review "How to Climb Stronger Faster, Healthier" The content is incredibly valuable. As an outdoor adventure writer and climbing guide, I believe that Mike's book will fill a niche that is not currently receiving a lot of attention. Mike is an incredibly accomplished alpinist and those who have suffered through any type of alpine climb – be it an ascent on Mount Rainier or an extreme route in Alaska – are always looking to people like him for more ways to train and more tips for "high-end" ascents…I can assure you that it will be added to the reading list for American Alpine Institute clients. I imagine that other guide services will do the same throughout the United States in Canada."
-Jason Martin: Author of "Washington Ice: A Climber's Guide", professional playwright, accomplished mountain guide, and Director of the American Alpine Institute.
"Dr. Mike Layton has been a friend and colleague for several years now and to this day it still amazes me the amount of knowledge and passion for climbing that this man has! Not only does his passion for climbing fuel his own athletic aspirations but also, it fuels his desire to help others achieve what he has through proper planning and preparation for an ascent. On the pages of this book you will find invaluable information on how to be more prepared for the task at hand and you will find that even though climbing, while seemingly rudimentary, can be as involved as you wish it to be!"
-Erik DeRoche MS, DC, CSCS: Chiropractic sports physician, professional triathlete, co-owner of Run Without Limits.
"Concise, comprehensive, and informative. Everything a modern, do-it-yourself alpine athlete needs to succeed. I wish all of my patients would use this book and wouldn't end up in the ER in the first place."
-Erik Denninghoff, M.D.: Emergency Room Physician and Climber.
2 Reviews
So-so
Review by: sfotex, 2010-02-27
Lot's of info from on weight training and rehab stuff, but past that it's a random collection of stuff that can easily be found on the internet. Selling this as a complete reference on climbing is pretty misleading in my option.
Great overview
Review by: jape, 2010-02-17
This book is packed with a bunch of information that many climbers may not know. It has a ton of exercises and ideas to help you climb better. It also has a large section on alpine climbing more geared to alpine rock. I highly recommend!