Equalizer
Item Details
|
Reviews
(
1
)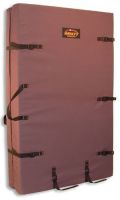 Description
The new Equalizer has dimensions similar to our big Magnum pad, but in an convenient hinged version. While the hinge design facilitates easy closure, the unique anti-void straps allow the two halves to be cinched snugly together, eliminating the center gutter found in standard hinged pad designs. Its ease of packability and excellent coverage make the Equalizer the pad of choice for boulderers who insist on the very best.
Dimensions 4' x 5' x 4.5" thick.
- Unbreakable aluminum hook buckles
-Padded shoulder straps
-Waist belt
-Bomb proof construction

1 Review
Great pad!
Review by: forkliftdaddy, 2008-01-04
Big and beefy, but light. This pad rocks. The anti-void straps effectively turn the two pads into one. And the ability to split the two apart works great for traverses. You can even tie the two together endwise to drag. But landing on a pad from low can be pretty rough as the pad is stiff.