1-inch Tubular Webbing
popular
Item Details
|
Reviews
(
6
)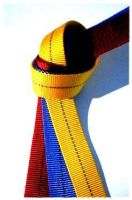 Manufacturer:
Sterling



This item may be available at:
Description
TOP QUALITY STERLING 1" TUBULAR WEBBING

This is the highest quality webbing that we have found!

STRENGTH: 4000 LBS.
6 Reviews

Write your own Review


Read all 6 reviews
Tubular Webbing
Review by: dangerdan, 2007-09-07
One of the least expensive pieces of gear you can buy. Rated at 4,000 lbs. Great for top rope using a wrap three pull two finished off with a water knot around a bomber anchor. In tests 1" tubular exceeds 7,000 lbs. even when pulled on the 1/2" dia. of a carabiner until failure. At $ 96.00 a spool for 300 ft. Buy a spool and give 20 footers as Christmas presents to 15 of your friends...
Unlimited uses
Review by: freezorburn, 2007-08-27
Went to Campmor and they gave me a good deal on webing someone else did not want. But I had to take all 70 feet of it! I figured I'de never use half of it. I was totally wrong, all 70 feet of webbing has been handy.

Figure out how much you need then get more.
Review
Review by: lvclimbingbum, 2005-07-01
Great. Just bought it and set up a slackline. I love it.
Review
Review by: mgoodro, 2005-04-07
Cheap, convenient, amazingly strong, and the core shows through when the sheath is damaged. I always carry at least a half dozen lengths from 5 to 40 feet. Stitched runners are great, but you can't beat the price of webbing. Webbing can (usually) be untied and tied around anchors or tied together for length. Essential for toproping and canyoneering, and useful for extra runners, this is a must have.
Review
Review by: ant, 2004-11-04
Hell, you never hav too much of this stuff