Barracuda
Item Details
|
Reviews
(
12
)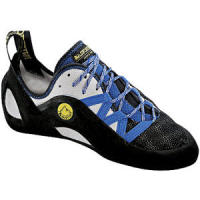 Manufacturer:
La Sportiva



This item may be available at:
Description
Technical, boulder, gym and crag. Uppers : new concept with Web Rubber on front and leather on back. Construction : tubular comfortable, technical and durable. Stretch and breathable tongue. Laspoflex 1,1 mm midsole for support. Easy entrance. Asymmetrical lacing system. Sole : VibramŽ XSV 4 mm. Weight : 0,45 kg; Tailles : 37.5 38.5 39.5 40.5 41.5 42.5 43.5 37 38 39 40 41 42 43 44 Correspondance taille
12 Reviews

Write your own Review


Read all 12 reviews
Good Shoe weird sizing
Review by: Jonjovac, 2009-10-16
I majorly undersized this shoe in an attempt to get a more aggressive shoe, and that was my big mistake. I normally wear a size 10 and i got a size 7! At first they were not too bad but after a little bit my toes would be destroyed. Its been almost 6 months now and they have finally stretched out to the point where they are really good shoes, but I still cannot wear them for extended periods of time.

Pros:
Excellent edging due a beautifully designed toe box
Really like the lace up style keeps the shoe glued to my foot.

Cons:
Can be a bit of an aggressive fit
Uncomfortable for long periods especially if you undersize them (duh!)

Unique design!
Review by: rashumon, 2008-04-18
This is my current favourite rock shoe. I Been looking for my perfect shoe for a while, and quite obsessively too, so far my top three are the Miura, Testarossa and Barracuda which I use the most. I also have a pair of Katanas which were my first pair ever, and I have also tried Red Chillies and 5.10s a plenty - the latter never fit me as well as Sportivas do. while I find the Miuras and Testarossas very good, for me, the Barracudas are even better with their comfort, sensitivity and the sense of poise they give me combined with amazing edging and hooking power that much stiffer shoes don't have! For me this is the most balanced rock shoe out there.

let me explain:

I downsized as aggressively as I could cram my foot into (normal size is 44.5-45 and I got the cudas at 42) and they are super snug and sensitive yet still comfortable enough to stand in and not take them off too frequently (and they are still quite new!!!). the point on these shoes is amazing, you can literally put your entire body weight on nothing and you just dont slide off. the tension is passed through the rubber rand all around your foot and the heel is kept securely in place. While this is also possible with my Miuras it is a much more painful deal and my heels do get a bit loose. The unique thing about the Barracuda is that despite not having the down-turned (and rather painful) toe design they are still very technical shoes that can heel hook, toe jam/hook, edge like the Miura and Testarossa and yet smear amazingly well on tough technical slab thanks to the flexible and less downturned design.. its this combination of softness comfort and sensitivity with amazing friction from the Vibram rubber and an excellent edging structure that makes them so special.
Some people say they are like a lace up Katana. This couldn't be further from the truth! the toes in the Katana are much more curled and the toebox is wider, the Katana doesn't fit nearly as snug and soft as the Barracuda and for me the Barracuda point, smear and edge much better than the Katana.
I haven't had them for very long so I'm not sure how much they might stretch but i'll update here in a few weeks once I finish breaking them in :)


Amazing shoe!
Review by: duransportiva, 2007-08-08
I wear a size 9 street shoe and accidentally got them too big when I ordered a size 42 (size 8 1/2 US). I've gone bouldering, indoor and sport climbing in them and work wonders in all three areas. I can wear them all day without having to take them off AND keep the sensitivity I need to step on tiny jibs. The web rubber is amazing for toe-hooking on roofs...or anything for that matter. The vibram rubber isn't as sticky as C4 but it lasts way, way longer. My only complaint about it is that the heel is too wide. I think that can be easily fixed though if you size down a size or two from your normal street shoe.
Cudas are bitchin
Review by: josephgdawson, 2006-12-22
I am not really in the mood to write out a review, but I love these shoes for numerous reasons and I don't think the other reviewers have been specific enough about why they are good shoes.

Putting my money where my mouth is: I am on my fourth pair of Barracudas and the fifth pair is on deck in my closet. The first shoe I ever had that I really liked was the Sportiva Muira. However, once I got into trad climbing I found the fit of the shoe made climbing cracks too painful to bear on my toe knuckles. The Muira wants you to fit it with pretty knuckled toes. For crack climbing I then picked up a pair of Mythos, but I found I could not edge well in them and I could not climb sport for shit in them. I wanted a shoe I could climb cracks in, edge with and smear with. To make a long story short I tried a pair of Barracudas.

First off, the cudas look pretty cool. I would not call the Barracudas a super aggressively fit shoe or even very downturned. They have a slight downturn that gives them some good edging power. I suppose you could fit them really tight for more edging power. I fit mine so my toes are only slightly knuckled so the shoe and my toe can bend to smear and so the toes are not knuckled so I can happily climb cracks in them. Fitting them with a slight bend of my toes rather than so my toes are flat still gives me some edging power.

I find the shoe excels in thin finger cracks and I can get more toe in a thin finger crack in Barracudas than I could in Mythos. This is due to the lower profile toe box and the shape of the shoe. The outside of the toe box is slender too, which allows you to smear it into the really thin finger cracks. In hand cracks and wider cracks, the rubber around the top of the shoe gives you a little extra grip and take a little bit of the bite out of foot jamming. These are excellent shoes for hard cracks. Oh yes, and because you do not have to fit these shoes super tight to get good performance out of them, mine are comfortable enough to wear on multi-pitch climbs. I did a ten pitch climb and never had to take mine off.

When I bought these shoes I figured I would always have to have a pair of trad shoes and a pair of shoes for gym climbing and sport climbing. It turns out that the shoe fits me well enough that I can use it for gym and sport climbing too. In other words, I only have on pair of shoes these days - cuddas. Because of the slight downturn of the toe, it edges well in the gym and on sport climbs. But, because you do not have to fit it super tight for it to edge well, you can still smear well with it. I could not smear well in Muiras. The shoe is a little deficient for outside edging due to the shape of the front. It still outside edges better than other shoes I have had though. I have also found I cannot edge on so well on super technical slab. To me that is 5.11+. I had problems on a super steep slabby climb in my Barracudas that I was able to do in a pair of tightly fit Muiras the year before.

I know most people gripe about Vibram rubber, but I have come to prefer it to 5.10 rubber because it edges much much better and it lasts at least twice as long.

To summarize, this is a fantastic shoe that meets all of my climbing needs. I have never seen these shoes in a store, I have always had to order them online. But once you know what size fits you, that does not matter. For reference, a size 40 Muira fit me pretty tightly and my toes were pretty knuckled in them. In a size 40 Barrracuda my toes are only slightly bent.
BARRACUDA
Review by: slablizard, 2006-12-22
I have used La Sportiva's for nearly 20 years, this is the first pair I don't like, but it's just me. I have a wide foot that fits perfectly in a Miura or Katana last, the 'Cudas are simply too long and narrow for my foot.
I tried them and ordered a number smaller at the local store, hoping that one size would reduce the effect I was experiencing. Not so.
I can't "fill" the shoe, either my toe is at the end of the shoe and the heel feel sloppy or is the other way around. Also the semi rigid sole prevents you from tightening it well, leaving the point of the shoe kind of empty.
And consider that I am using the same size Miuras that fit me snug and tight.
I am not even considering resole them, I went trough a sole and that's it. It is a good shoe if you have a narrow foot, otherwise stay away from it.
The "S" lacing system works well, but the semi-rigid intersole works against it. They edge well, but are rigid on smears and feel a bit clunky on the points.