Positron Straitjacket Quickdraw
Item Details
|
Reviews
(
10
)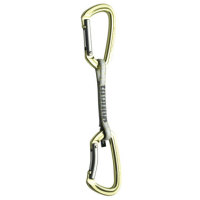 Description
One hundred percent keylock function, from top to bottom, the Positron Quickdraw has a straight gate top biner, a bentgate bottom biner and is equipped with an ultralight 10 mm Dynex™ dogbone with the Straitjacket System. The Positron's notchless gates make for smooth clipping on the way up and effortless cleaning on the way down.
10 Reviews

Write your own Review


Read all 10 reviews
snap action supreme!
Review by: godfather2, 2011-01-13
Clipping into the biners is a cinch and I can't get enough of the snapping action ... crisp every single time over several seasons of climbing! key lock for the win
Review
Review by: banshee20, 2005-11-28
great draw, clips smooth
Review
Review by: p0bray01, 2005-11-05
I am quickly becoming a BD addict. I bought one of these at the request of my climbing partner. I actually have the anodyzed version. Great biner, strong and light. Not as easy to clip as the dynotron but a good draw nonetheless. I use it as My backup or cleaning draw. BD keeps it real with the keylock nose, and with the sales going on you can pick one up for about 12 bucks!
Review
Review by: mgoodro, 2005-09-30
I bought these for the biners; it was cheaper at the time to buy 4 draws than 8 biners. These are now my favorite sport draws, I just wish I'd picked up the longer dogbones. The keylock is one of the greatest innovations in climbing technology. I love the rubber sleeve on the dogbone for holding the biner in place in use, but I hate it when I'm raiding my sport draws for the positrons to use with trad gear and draws. I just need to get more Positrons.
Review
Review by: nmoroder, 2004-08-08
Great product. I like the Petzl draws better but can't imagine spending $22 a draw. This is the next best thing. GET LONG(20cm) DOGBONES!!!