Halfmoons
Item Details
|
Reviews
(
3
)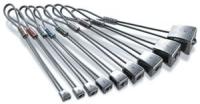 Manufacturer:
Other



This item may be available at:
Description
A versitile range of wire protection for climbers of all abilities. Halfmoon's offer high performance and ease of use with their established design and build quality.
- Easy and stable placement
- Excellent design and finish
- Suitable for climbers of all abilities
The holding power goes from 10 kN at the smallest size, to 9 kN with the largest size.
3 Reviews
Review
Review by: boku, 2005-05-27
No text provided
Review
Review by: ramylson, 2004-04-26
First set of stoppers I've ever purchased, and they're adequate to get the job done. Stiff wire and decent shape for good placements. Although, as I've purchased more stoppers to complement my rack, these get used less and less. The size of the stoppers (more specifically, the tail of the stopper) aren't as user friendly as other stoppers on the market.
A good piece to add to your rack in an effort to fill in sizes.
Review
Review by: andypro, 2003-10-16
Not bad. Not great. I've got the normal sizes up to a 4 or 5 or so. Sizes seem to be inconsistant with most others out there, but I dont really pay attention to sizes anyways. The aluminum is softer than the bigger names (BD, WC, Met) which means they scratch/deform more, but it also means that in sketchy placements they bite into the rock well. All around not bad as a supplement to other nuts.