eTrex Legend
Item Details
|
Reviews
(
6
)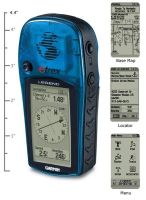 Manufacturer:
Garmin



This item may be available at:
Description
This compact GPS features Garmin's easy-to-use rocker switch, 8 MB of built-in memory, improved resolution and a built-in basemap
Innovative rocker switch allows for quick and accurate panning, selection and enter functions
Built-in memory allows you to download points of interest, including detailed maps, from Garmin's MapSource™ CD-ROMs (sold separately)
Crisp, high-resolution display features 4-level gray scale and more pixels for improved viewing
Includes a built-in general basemap for entire North and South America
Follow your route, marking up to 50 waypoints; find your way back with Garmin's exclusive TracBack™ feature
Store up to 500 waypoints with graphic icons
eTrex maintains tight satellite-lock, even through dense forest, by continuously tracking up to 12 satellites
Trip computer calculates current and average speed, sunset and sunrise, trip time and distance
Weatherproof case keeps eTrex functioning in wet conditions; waterproof to IEC 529 lPX7 standards
WAAS (Wide Area Augmentation System) enabled receiver delivers sub-3-meter accuracy
PC interface cable included
6 Reviews

Write your own Review


Read all 6 reviews
Review
Review by: sarcat, 2005-06-30
I bought it because the Summit I've had for 6 years is finally out of date to where I could justify getting a new one. And since I feel Garmin is the easiest to use so I went with another Garmin. I've seen lot's of others used in SAR but I usually kick but when it comes to fast coordinates and navigation.
Review
Review by: godawgs, 2005-02-23
Has this since it was released 2-3 years ago. Awesome, only problem was that the only cord to connect to a computer has a serial port(I think), and my laptop only has USB ports, which can be a pain sometimes.
Review
Review by: kansasclimber, 2004-03-01
I have had this gps for some time now, LOVEIT!. It isnt too much, but its not to little. Its very rugged, with stands rain torms easily. It comes with all the features including a back light, base map of North America, 8 MB of storage for more detailed maps that include the nearest WAL MART!! I will take it with me this summer to colorado where i will be living out of a van. I will definetly be marking routes, do i know how to get back to them. It has a claendar, tells you when the fish are biting, area calc. (tells you how many acres you have incompased, and more! This is the gps to get. And for the price of around 200-250 bucks, cant beat it. Have any questions about this product, PM me!
Review
Review by: gravy, 2004-02-24
This was the first (and only) GPS receiver I've bought and very easy to learn with. The buttons and page functions became intuitive in no time and the screen is a good size and easy to read. It's light, seems to be pretty durable and just the right size-- not too big, not too small.
On road trips, it seems to have most good sized roads in the country already in the base map, and the "nearest gas station" feature is really nifty. If nothing else, it gives me something to play with on those long drives through Kansas!
I've been using it in conjunction with the Nat Geo and DeLorme programs, which both work well in their own ways. You don't need to use either, but you'll really appreciate some of the receiver's moer sophisticated features if you do. One really nice feature if you use these programs is that you can plan out a route on your PC and upload it into your receiver for tomorrow's trip.
Anyway, it's been a good product and I'd buy it again.
Review
Review by: brittamac, 2004-02-22
This GPS device is easy to use, especially paired with NatGeo topo software, you can develop routes in advance of your trip and download the waypoints into the device - or plot them as you go if you have a laptop in your car on a long trip. While its tough to get a consistent signal when you're down in the trees it was a lifesaver in Death Valley where's lots of open sky and LONG distances. It has a nice backtrack function, which lets you re-trace your steps without a detailed map. It has a compass feature, but no formal altimeter; you do get altitude, but I think its calculated based on coordinates from the satellites. Even so, its pretty accurate, in the Badlands area of Death Valley, its -282 ft, and my Legend read -279; pretty close. Garmin claims it can be dropped into water for over a minute, but I wouldn't try it, but it's very weather resistant, and has nice rubber sides so you won't drop it when your hands are wet. Otherwise, very durable, and relatively lightweight. The screen is a good size, and you can zoom in and out for detail. It comes with map software already installed, that shows roads, cities, etc. You can download software to find gas stations, restaurants, all sorts of stuff. Regardless of which type of GPS buy, they all inhale batteries, so turn it on when you want to check your position, and then turn it back off. The Legend comes with a long carrying strap - attach a compass to the end of it. By far the coolest thing to do with it is to turn it on in an airplane (shhh, don't tell the flight attendants) and watch your position literally FLY by on the screen. Good luck - and remember that a GPS can only supplement and will NEVER replace a map and compass. You will know your EXACT position on the face of the earth, but you will still be lost without a map.