Ascenders
Item Details
|
Reviews
(
1
)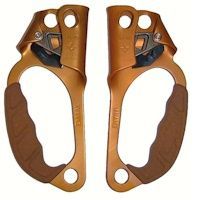 Manufacturer:
DMM



This item may be available at:
Description
Our range of ascending and descending equipment has expanded coniderably. Our handled ascender can be used with 8mm - 13mm ropes, has a high strength cam for easy upward movement and positive grip. The ergonomic shape of the handle provides a secure and comfortable feel, even with gloved hands. They are available as left and right single units, or in pairs. [b]Cat No: Right AL - 15, Left AD - 10 Ropes suitable 8 - 13mm Static or Dynamic Weight: 205g Dimensions - 197mm x 93mm x 23mm CE and UIAA certified, indivIdually tested[/b]
1 Review
Review
Review by: omenbringer, 2004-09-23
These are a couple bucks cheaper than the Petzl's yet comparable in design. The padding is a little beefier than the Petzl's yet doesn't impede use with thick gloves. Overall the DMM's are a little larger than the Petzl though about the same weight. The cam can easily be operated with one hand. The major difference between the two brands is the lack of a cam cutout on the DMM's which Petzl says helps their ascenders shed mud and ice off of ropes. The DMM's are probably best suited to a climber who has big hands or wears thick gloves.