Ascension Handled Ascender
Item Details
|
Reviews
(
19
)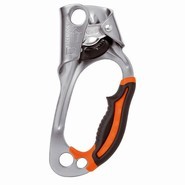 Manufacturer:
Petzl



This item may be available at:
Description
Updated to provide greater comfort, efficiency and ease of use, the Petzl Ascenion ascender is great for aid climbing, mountaineering or caving. Updated molded grip features a more ergonomically shaped handle that provides greater comfort than the previous version grip is over-molded with rubber for greater friction. Large index finger indent increases efficiency when pulling on the ascender. Chrome-plated, spring-loaded steel cam features angled teeth and a self-cleaning slot to securely grip the rope, even in wet, muddy or icy conditions. Cam has been refined to glide more easily along the rope, requiring less effort during long sessions of jugging. Open/close trigger is now recessed inside the ascenders frame to avoid accidentally opening the cam while in use trigger can still be operated with 1 hand. Safety catch prevents the cam from opening too far, thereby keeping the rope captured. Includes multiple attachment points to allow for different uses, such as self-belaying or hauling. Anodized frame is color coded for easy identification black ascender is for the left hand and gray is for the right. Designed for use with ropes between 8 and 13mm in diameter.
19 Reviews

Write your own Review


Read all 19 reviews
Petzl Ascension Handled Ascender (RH model)
Review by: donniecs, 2010-11-22
I've been using this ascender as part of a frog climbing system for about a year now for caving. Caving isn't exactly the cleanest environment to operate but even with the ascender and rope caked in mud, operation was flawless. Some people have said that the "new style" ascenders will wear the rope more than a Gibbs style ascender but our ropes see heavy uses and no abnormal wear. The only thing I would change is a larger eyelet at the bottom to accommodate two carabiners during a change-over.
Does what its designed to do.
Review by: USnavy, 2008-01-22
Havent had any problems on my 10.5 mm rope. Locks off solid and does not slip.
ascension
Review by: metalhead, 2007-04-12
wha wha wee wha! I love it, i use it to climb trees and its super smooth. also the safty catch is real nice
Review
Review by: dbrayack, 2006-08-07
I use this in combination with a gri-gri to ascend and take photos. It's pretty slick.
Review
Review by: israeli_climber, 2006-02-14
Used it some and really like what I've got!