Croll Chest Ascender
Item Details
|
Reviews
(
6
)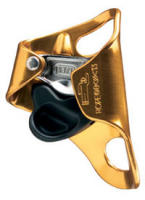 Manufacturer:
Petzl



This item may be available at:
Description
When used with a chest strap and the Petzl Ascension or Basic, the CROLL makes for a simple and efficient system for ascending fixed lines. The angled attachment hole keeps the device properly aligned on the chest.
6 Reviews

Write your own Review


Read all 6 reviews
Petzl Croll Chest Ascender
Review by: donniecs, 2010-11-22
I have been using this as part of a frog and rope-walker (used on the right foot) climbing systems for caving for about a year. I use the Croll in conjunction with the Petzl Torse chest harness and have no complaints. The Croll does what is was designed to do and it does it well. The only note-worthy issues is to make sure your Torse strap or any webbing or such in the vicinity of the Croll be neatly tucked away because if webbing gets jammed in the cam with the rope while climbing you'll be there a few minutes trying to correct the situation.
Review
Review by: deepplaymedia, 2006-05-07
fantastic! I had only used it in rope acess work until recently but I'm going to start using one for my photography & on walls as well
Review
Review by: niftydog, 2005-02-22
Works well, sits flat if you can get your harness sorted properly. Mine withstands quite a bit of abuse as it's always attached to the front of my harness while I crawl around in the roof trussing.
Review
Review by: gohighgodeep, 2004-08-06
i use my croll for caving doing frog ascension (what it's designed for) and it's the best chest ascender i've seen. never had any problems with it not catching, jamming, or anything like that. i've got a ascension and pantin that i use it with.
Review
Review by: scubasnyder, 2004-02-08
This is a great ascender, i have the older versions of this, they still work they are about 4 years old. All they need is a little bit of oil, never had one slip so i think they are great