Ropeman Ascender
Item Details
|
Reviews
(
3
)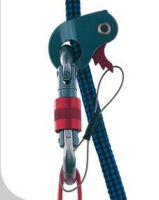 Description
This unique device is without a doubt the smallest, lightest, and most affordable fully functioning ascender. Exceeds all ascender / pulley axle standards. Biner not included.
3 Reviews
Super handy
Review by: vespernine, 2007-03-28
This thing will come in handy for all kinds of situations, forseeable or not. I will always keep this little bugger on my harness. I think the first reviewer was actually talking about the MKII product, as this one has always had teeth...
Review
Review by: gunked, 2004-03-19
This device lasted one wall!!! After that, the ridges on the cam didn't want to catch any more and I had to press on the cam while pulling to make it function. I'm guessing that the rope smoothes out the cam. Their newer ropeman with actual teeth (similar to the basic ascenders) solved this problem perfectly.
Review
Review by: adeptus, 2004-02-21
Great device for icy ropes, where prussik knots might slip or for emergency hauling.