SRTE Explorer ascenders
Item Details
|
Reviews
(
2
)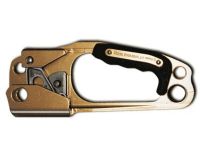 Manufacturer:
Other



This item may be available at:
Description
Extruded Aluminium Body Stainless Cam Stainless Eyelet Nylon Handle (Explorers Only Attachment Holes Stainless Springs Stainless Washers Stainless Rivets
2 Reviews
Review
Review by: dagawebb, 2004-12-10
I hae owned my SRTE Ascenders for about four years and have been taken up about 10 Walls and I also use them for caving. They are going strong. The best part of them is where they rub against the wall when cleaning big walls is super thick, they will take forever to wear through. These ROCK
Review
Review by: philbox, 2003-05-14
SRTE makes the best gear in the world. Bold statement I know but if you can get a hold of these products and check out how bombproof and versatile they are you too will be convinced how well they are made. These handled ascenders come in both left and right hand versions. I particularly like all the attachment holes all over the ascender. I reckon the stainless wear prevention washers in the main biner hole is great. The extruded and machined alloy single piece body is awesome and ya could drop a one ton boulder on it and there would be no damage. These ascenders are a lifetime once only purchase. They may be a bit dearer than other ascenders but hey ya only ever have to buy them once.