Tibloc Ultralight Ascender
Item Details
|
Reviews
(
13
)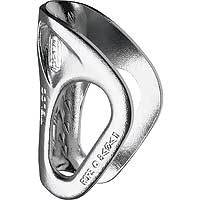 Manufacturer:
Petzl



This item may be available at:
Description
Simplicity often yields the best results. This simple taco shaped piece of metal is really a cam that can lock over a rope and press it against a carabiner. The result is the lightest weight emergency ascender you can buy. Superb for crevasse rescue and hauling, or running along a fixed rope back up on slopes. Please note that the Tibloc is for emergency or occasional use only and care must be taken to engage the cam correctly.
Use only with a minimum of 10mm
diameter, round or oval-stock locking carabiners. U
se with ropes 8 to 11mm.
CE certified.
13 Reviews

Write your own Review


Read all 13 reviews
Tiblocs
Review by: abobo123, 2010-01-27
When i'm tradding, I keep two of these in the zipper pouch on the side of my chalk bag with some rap rings and a blade. Makes a nice little "get out of trouble" kit. Use them with caution though, if you let it slide on your rope rather than pressing it in with your thumb, as the directions show, it'll shred it. And the hard steel is pretty rough on some biners. Had to use them once so far to get my second out of some trouble. Direct belay with a reverso + 1 tibloc = Z pulley reduction. If you're creative, you can ascend with just one and a reverso/ATC-G too. Good to have, but really hope to never use.
Review
Review by: blake_wrinn, 2006-06-10
wow! INGENIUS! quite possibly the coolest yet primative piece in my rack. cuts prusik time in half!
great for hauling, or hanging around while your taking pictures!
Review
Review by: jammer, 2006-01-20
In an unexpected emergency situation, where you do not have your assenders, these little buggas are a life saver. I wouldn't use them unless I had to due to the rope issues, but I always have them on my rack. Small, light and easy to set up.
Review
Review by: afiveonbelay, 2005-09-29
need to practice rigging and using it before you have to on a rainy, cold night in a state of panic. carried it until I bought the ropeman markII ascender
Review
Review by: speedywon, 2005-04-25
If you don't have the cash for a full sized ascender or just don't want to carry the extra weight, this could be nice to have in a pinch. However, it's just not good for regular, everyday use.