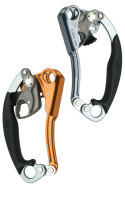 Description
With a greater clamping force than conventional ascenders, the Black Diamond nForce ascender offers maximum grip on icy or muddy ropes. Anodized aluminum construction is lightweight, durable and corrosion resistant. Four-bar linkage drives body weight into the rope resulting in nearly a third greater clamping force than standard ascending devices. Flared rope slot fits a wide range of rope diameters, from 8-13mm stainless-steel cam design can be installed and removed easily mid-rope. Spring-loaded stainless-steel cam opens wide for rope insertion thumb-controlled lever offers one-thumb operation during ascension. Locking mechanism locks cam in either the open or closed position engages and disengages with index finger via the cam trigger. Includes upper and lower carabiner clip-in points thumb bump at top assists when descending short distances. Available in left- and right-handed versions, color-coded for easy recognition. Ergonomic polyethylene-coated grip provides a sure hold, even with heavy gloves keeps hands from freezing and sticking in cold weather. Can also be used for self-belay or hauling gear.
Editors Review
| | |
| --- | --- |
| | Kate puts BD's new ascenders to the test! |
2 Reviews
Many moving parts
Review by: 1tooth, 2008-02-14
Pretty good overall, good idea for the design, however when jugging sometimes if you don't pull straight down or back on the handles, the cam won't engage and you will slide down the rope a couple inches before engaging, which can scary at first until you figure out what is going on. I can reproduce the slipping now when I want, something I couldn't do with my Petzl's. Otherwise they are great, you get a finger and a thumb in on the trigger action, and they have that bigger hole in the handle if that makes you happy. Have only used on aid walls, no dirty ice/mud alpine stuff yet.
pretty sweet
Review by: djrepnik, 2007-04-25
these are pretty good all around. they feel more secure than the traditional design of petzl, yates, and camp. the trigger is very easy to operate with only one finger. the only drawback was that when you are getting started jumaring (bottom 15 feet of the rope) the bottom NForce cam needs to be manually operated by the trigger finger, this is because it grabs the rope so tightly. I never had that problem with the Petzl ascenders. Never the less, these in my opinion are much better than the Petzl.