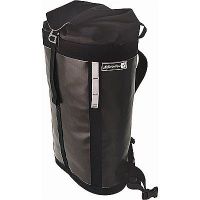 Manufacturer:
Metolius



This item may be available at:
Description
A clever combination of pack and haul bag. You've filled your daypack with your gear, and you've hike into the route. But when you try and haul your little pack, it snags, it rips, or just generally makes life miserable. The 2250 cu. in. Express solves the problem. Its sturdy vinyl "truck tarp" fabric is easily up to both hauling's abrasion and inclement weather, its clean profile won't snag, and its true clip in points make a cinch to get to the top. Yet its tuck away shoulder straps are comfortable, even on a long approach. A couple of three-pocket external daisies and a small pocket on the top flap let you get to small necessities.
2 Reviews
Great Pack!
Review by: scottydo, 2007-11-22
I wanted a pack that I could put all of my gear as well as my rope in and this was it!
I plan on getting into big wall climbing eventually so this should be pretty good as a haul bag in the future. I've taken this to my favorite sport areas and it works really well for me. I really like it cause I can put a ton of stuff in here....and then my rope! And it is nice that it is so sturdy. I recommend this to anyone who wants to do different kinds of climbing or just wants a simple, sturdy, crag pack.
Review
Review by: forkliftdaddy, 2006-02-17
This is a good and very tough crag pack. I stash a moderately-sized trad rack, a helmet, shoes, a rope, food, water, a light shell, and my harness inside it. In wintertime, I manage to carry a belay parka and gloves, but must hang my helmet and shoes -- pity the fool behind me -- off the outside. If I'm toting big gear, it has to hang off, also. I have the Express model, but I wish I had the next size down because the straps are pretty thin for the pack when it's fully loaded. I try not to overpack. The hip strap is not very useful for me. For someone shorter it might work better. I am just under 6 ft. Small pocket in the lid is great for wallet, keys, food, GU, etc.

Pros: Toughest crag pack ever. Stands on it's own. Waterproof. Simple (i.e. no whing-dings to get caught on the rhodos).

Cons: Suspension is very basic with relatively thin shoulder straps. Web belt may not prove useful for taller folks.