Grade VII Haulbag
Item Details
|
Reviews
(
1
)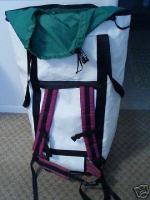 Manufacturer:
A5



This item may be available at:
Description
Old school 9000 cubic inch haulbag - White Ballistic cloth, inside zipper pocket, drain hole grommet in bottom, removable carry straps.
1 Review
just got one for 10 bucks
Review by: zeth01, 2010-01-12
So I just picked one of these up from the north face outlet in berkeley. first thing is that it seems flimsy compared to my metolius but maybe that's just me. it was all smushed up and folded and it is probably over 10 years old although "new". It's freaking massive and great. The webbing seems to be thinner than newer haul bags. theres just webbing sewn around areas of high friction which probably wont help much since it's flimsy webbing. Theres no flaps of durathane over high wear points. I wanted to test it out on the way home so I went to the store bought a large case of oranges and threw them in with my metolius quarter dome, filed with my jackets that I had with me and a guide book to Cuba and a big wall climbing book. the padding in the shoulder straps is flimsy and the padding for the waistbelt is the same and goes through the pack rather than separating the padding from the webbing so your back is not against the durathane and you get a bit of extra comfort. I walked 2 miles or so and almost died. maybe because the load lifters attach near the top of the bah far away from the shoulder straps so it just flopped over and they did no help because the bag wasnt packed to the max. I think carrying a full bag would suck but be somewhat barely manageable. I like metoliuses system better and its more durable. i feel that the chest strap always slid out of place over time and that it would crush the foam after a few uses and destroy the shoulder straps. also the bag is stitched together rather than fused together like metolius bags so this would be an extra wear point. i did get it for ten bucks so i can't really complain too much. it'll definitely get put to good use once i learn some wall skills soon. I decided to get some of that liquid plastic stuff from the hardware store to cover all surface of the straps. so hopefully this will help. theres also a bunch of loops around the outside with webbing running through. i think this is to hang gear off of but can only imagine this lasting one large wall and then be toast after such. anyways time will tell and i just thought i'd share my first impressions. i'm sure it's good enough to get the job done which is why i spared the whole $10.