Sentinel Haul Pack
Item Details
|
Reviews
(
1
)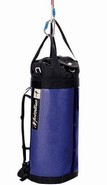 Manufacturer:
Metolius



This item may be available at:
Description
The Metolius Sentinel is designed for use on shorter walls or as a sub-bag under the main haul bag. The Sentinel also doubles as the toughest crag pack youll ever own. Made from the same bombproof Durathane as Metoliuss full-size haul bags, this bag is built to take massive abuse. Double layers of Ballistics nylon on top and bottom seal out the weather. For the approach, these bags feature well-padded ergonomically shaped shoulder straps with our custom aluminum buckles, top riser adjustment, and sternum strap, all of which tuck away into a built-in pocket for hauling.
1 Review
Metolius Sentinel
Review by: dirko, 2006-11-19
After three years I have still failed to destroy this things. It's really too small for soloing but I've had great use of it for a second bag on longer trips, or a single for walls in a day. It's best use by far though has been for backpacking and vagabond travel throughout the third world. Once it has a few walls on it (the Metolious logo will fall off) it looks completely non-descript, it's plenty durable, and just the right size. Unless you are in a mult-day downpour or a storm on a wall, consider it waterproof. The lid pocket is essential and you can really strap a bunch of stuff on the lid for approaches. I have soloed Grade V's with this bag but it was really too small.

Gripes: I had to reinforce the lid where it covers the closure buckle with a LOT of Shoe Goo because the fabric gets shredded where it rubs over the buckle unless the bag is totally full. If you are into the whole comfort thing (what are you doing climbing walls anyways?) you may find the suspension wanting.

This bag is basically indestructible.