Touchstone Haul Bag
Item Details
|
Reviews
(
3
)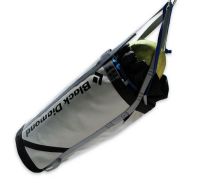 Description
Description of Black Diamond Touchstone Haul BagA mid-sized bag for single bivy walls, the Touchstone is built from tough vinyl-laminated nylon with straps and a padded hip belt that tuck away fast. Its double-walled skirt provides waterproofing and quick access to your gear. FeaturesVinyl-laminated nylonStrapsPadded hip beltDouble-walled skirt2.44kg 5 lb 4 OZ70L 4272 cu. in. 70cm x 36cm 28 x 14
3 Reviews
touchstone haul bag
Review by: desertdude420, 2007-04-05
I got this haulbag as a second for 2-3 day walls. I have done a couple of walls with it so far, but end up using more as a crag pack for the Creek. It's perfect for holding all those big cams! It has been great so far and is holding together great (although I did coat the webbing straps with "plasti-dip" where they run down the outside of the bag for extra abrasion resistance).
Review
Review by: cchildre, 2005-01-27
This is my first haulbag! I just can't imagine getting a better bag for the money. On my trip to Potrero last year I packed everything I needed for an entire week of climbing, 70M rope, sport rack, harness, 2 pair of shoes, sleeping bag, full length pad, 3 man tent, clothing, very little food, toiletry bag, all told 65 pounds of gear and it carried very well, it was rather difficult to pick up and put on at that weight. The stowable should straps and removable hip belt are great. It does get a little toasty on some of the longer hikes and gives some nasty back sweat. I am going to get the stubby for my cragging sack, and when I start multiday big walls then I will probably go to that big brother, Zion. Time will tell on the durability of this. I will update this review with long term results.

Update: I smashed the hip belt buckel in a car door but it still holding despite the cracking. I have started to see some slight seam separation on the top cover from opening and closing. Otherwise this bag has been bomber. Still loving it.
Review
Review by: jakewolf, 2004-04-27
Good size to carry. This haul bag is not so big that you can't carry it . Not a bad options for two day walls. Two of these would be nice to split the load on a longer wall. Not as tough as other bags, but very inexpensive. Good value. Comfortable straps and hipbelt.