Descending Ring
Item Details
|
Reviews
(
3
)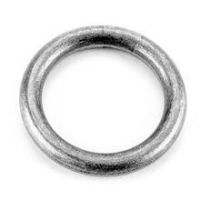 Description
This inexpensive aluminum ring is intended to be left at the top of a rappel in place of a carabiner to facilitate rope recovery. One-piece aluminum ring constructed without welds for strength. Inside diameter of the ring is 1.5 inches .
3 Reviews
Review
Review by: mgoodro, 2005-05-02
Freakishly light and cheap enough to leave behind. I also double up, but two of these still weigh substantially less than a steel ring. I always carry enough of these to keep from rapping on just a sling. I would not recommend these for TR, the aluminum will wear too quickly.
Review
Review by: scubasnyder, 2004-11-24
This is a good Descending Ring but I always use 2 when putting these up, ive recently started using stainless steel fix descending rings, they seem more trustworthy and i feel i only need one
Review
Review by: nmoroder, 2004-08-16
For rappels these work great. The rope runs through these to prevent the rope from burning the sling. I use 2 or back it up with a sling, just in case. These are so light they are scary!