Long Life
Item Details
|
Reviews
(
4
)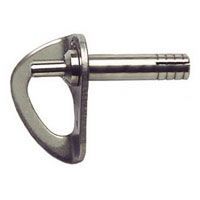 Manufacturer:
Petzl



This item may be available at:
Description
This 12 mm stainless expansion anchor cannot be dismantled. It is an anchor with an integral, non removable hanger.
Expansion via central hammer-driven pin.
Simple to place as it does not require a spanner for tightening.
4 Reviews
Review
Review by: JRBarnett, 2009-06-29
Considering the price of a bolt + hanger $10 for this unit wasn't too bad. Sure, it's a little more but placement was relatively easy, and it's got a pretty solid feel.

The only complaint I have is that when you're driving in the pin it's really easy to hit the hanger on accident. I would recommend using some sort of buffer to eliminate the change of dammaging the hanger.
"Long Life" Hammer in Bolts
Review by: moab1, 2008-09-15
How can you complain?I've bolted many routes , and the money and time it took to do so was a waste.The hangers them selves arent cheep and the bolts arent either..So with the easy hammer in type for $10 , and all you have to do is drill a hole...Man you have me sold!!
Review
Review by: bongowurm, 2006-07-04
I prodealed six of these for about $10 total, and they've been everything I hoped for. I've taken some big falls on on of them, everything looks solid and they were exceptionally easy to install for me. Too bad they're so expensive!
Review
Review by: wyclimber, 2005-04-21
Overpriced at nearly $10 bucks. The shallow placement is dubious except in very hard stone. Also potentially difficult to place in a less than perfectly drilled hole. The legendary Petzl build quality may be the only redeemable feature.