Sentinel bolt hanger
Item Details
|
Reviews
(
3
)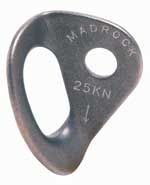 Manufacturer:
Mad Rock



This item may be available at:
Description
A bolt hanger is a bolt hanger? Think again. Mad stainless hangers with a twist in jus the right place. The eye of our hanger features a twist and polished edge which enables smoother clips and does away with those nasty gashes on your carabiner. Fits standard 10mm or 3/8 inch bolts. Breaking load 25 kN.
3 Reviews
Great for the Money
Review by: I_eat_glue, 2008-06-06
I've used these bolts on several climbs on some easier walls that I'm developing. I admit, I went with them mainly because they were the cheapest ones I could find, but after using them, I must say that they've done the job quite nicely. I will agree with both of the previous reviewers in that the bolt hole is close to the 'biner hole which will cause some difficulty if you use bulkier bolts or if you're on an overhang, but if you're like me and are just looking for a simple bolt for a straight forward climb, this one's not a bad choice.
Very light & smooth, but...
Review by: braxtron, 2007-07-13
If you use wedge bolts, they may obstruct the 'biner hole, meaning it's more difficult than it should be to clip into. Use of Rawl 5-piece bolts alleviates this issue. It would be nice if they'd move the bolt hole so bolts are out of the way.
Review
Review by: chuffinator, 2004-04-23
Not bad! They are well made and very strong. Drawbacks are that they don't work well on overhangs. My carabiners would kink at the beveled point of the hanger. Vertical use only, no akward angles for these guys.