Stainless Steel Bolt Hanger
Item Details
|
Reviews
(
6
)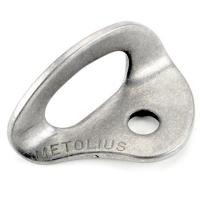 Manufacturer:
Metolius



This item may be available at:
Description
304 Stainless Steel
4 mm thick
Coined radius on the carabiner-bearing surface
Bolt hole fits 3/8" or 10 mm bolts or 1/2" full-sleeve bolts
4950 lbf (22 kN)
Price: $2.65 ea.


6 Reviews

Write your own Review


Read all 6 reviews
They donít stand the test of time in marine environments
Review by: USnavy, 2009-09-07
We have about 750 of these hangers on routes in Hawaii. After about 7 - 12 years about 3% of the hangers failed on a standard lead fall. Additionally, many hangers we retire after 10 years are pull tested. Approximately 90% of the hangers we tested fail to meet the UIAA requirement of 20 kN tension and accordingly they fail to meet their rated strength of 22 kN tension.

On the other hand we also use Fixe's 4mm stock 304 SS hangers that are equally as old still fail above UIAA requirements.

So my point is, donít use them in marine environments. Use Fixe's 316 SS 4 mm stock hangers or glue-in's instead. Another worthy note: The powder-coated version corrodes faster then the non-coated version.

Review
Review by: jbeta, 2005-10-11
These hangers have become de rigueur at many sport climbing areas. There simply isn't a better hanger for an expansion bolt.
Review
Review by: scubasnyder, 2004-11-24
This is a nice cheap hanger, everyone said easy clips, but ive had better i must say, they seem to be a little smaller than some of the FIX hangers ive put up, but what from I saw Ill probaly buy more of these.
Review
Review by: onbelay510, 2004-10-19
Easy clips, strong. I've trusted my life to these hangers many times.
Review
Review by: dredsovrn, 2004-07-23
Strong hanger. Easy to clip. No rust. What more could you need?