The Fixe #038 Stainless Steel Hanger
Item Details
|
Reviews
(
3
)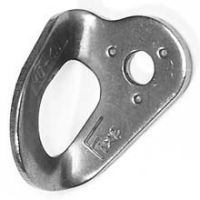 Manufacturer:
Fixe



This item may be available at:
Description
The Fixe #038 Stainless Steel Hanger is currently the strongest hanger available, rated at 40kn/10000lbs it has twice the strength of most other hangers. Use this hanger with 3/8-inch (10mm) bolts Will accommodate two carabiners Available in INOX Plated MIMETIK Made in SPAIN
3 Reviews
Review
Review by: mgoodro, 2005-05-07
Super-strong highly functional anchor at a supurb price, this is my hanger of chioce. The only time I don't use these is in sensitive areas where color matching is desired.
Review
Review by: wyclimber, 2005-04-21
I have placed hundreds of these and they are the bomb! Cheap, thick, stainless, and a large enough opening for two carabiners make this a segment leader.
Review
Review by: chuffinator, 2005-02-26
Strongest hanger out there! Can't go wrong with the price either.