Next

Bomb Shelter Double Portaledge
Item Details
|
Reviews
(
2
)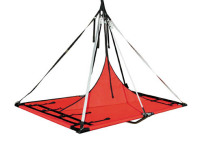 Manufacturer:
Metolius



This item may be available at:
Description
2' 6" x 7' 10 lbs. 11 oz.
innovative spreader bar keeps the bed/frame from sagging--eliminates sway back & shoulder crush
addtl. layer fabric at center section to reinforce this high-stress zone
custom-milled anodized corner blocks & tubing make setup and take down a breeze
"fat" 1.125" tubing for increased frame strength
bed tensioners on each end hold frame securely
thick, urethane scuff-guard (made from same material as our haul bags) protects "wall side" of ledge
ledge risers gather to a "master point" which is a heavy-duty sewn loop
risers are color coded for each side and their heights are easily adjustable with handy cam-lock buckles
2 Reviews
Review
Review by: cornmonkey, 2005-08-30
Even at hanging belays, this ledge is easy to set up. The open corners allow the sidebars to drop into place with no problems. The spreader bar is the "hardest" part, but even this is relatively simple, especially if you are used to thrashing with the ledges of old. I have found that doing the spreader first then doing the side bars, makes the thing drop into place in 2 minutes.

The only bummer is the way that the webbing used to secure the fly under the ledge is just these two really long pieces of webbing. It could be quite difficult to get these guys together in the event that a sprinkle turns into a howler.

The big triangle shaped vinyl piece near the clip-in loop keeps the suspension from tangling into a freaking mess, and the webbing on the outside of the fly sack means you can crank it and stuff it down in the ledge bag, saving a bunch of room in your haulbag.
Review
Review by: mkjwngoat, 2005-04-02
To start out, It's a pain to set that spreader bar at a hanging belay. But since I haul my ledge flagged, thats not an issue. Comfy, roomy, with FOUR bed tensioners on each side (it realy does make a difference) this ledge makes me happy. the rainfly is wicked too, with being able to deploy it in under 30 seconds and all.