Fixe Pulley
Item Details
|
Reviews
(
6
)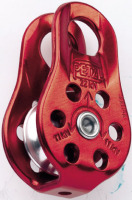 Manufacturer:
Petzl



This item may be available at:
Description
Petzl Fixe Pulley Spring 2009 The Fixe Pulley by Petzl is a pulley with fixed side-pieces. The Fixe is a strong, lightweight and compact standard pulley. Single pulleys, like the Fixe, are lightweight and multi-purpose. They can be used as a redirect point in complex hauling systems or as the main pulley in simple systems. Specifications: Weight: 90 g Efficiency: 71 Breaking strength: 2 x 11 kN 22 kN Working load: 2 x 2.5 kN 5 kN For use with ropes of maximum diameter 13 mm Certification: CE / UIAA Features: Allows a hauling system to be set up when used with a mechanical ascender. Also useful for redirection of the rope to avoid rope drag and wear. High efficiency due to the sheave mounted on self-lubricating bushings.
6 Reviews

Write your own Review


Read all 6 reviews
Review
Review by: zoso137, 2006-03-20
No text provided
Review
Review by: smt2003, 2005-07-24
It's not the best pulley out there, but it's small, light weight, and it works. For 20 bucks, why not.
Review
Review by: adamtd, 2005-03-05
It's a pully and it works. It's relatively smooth, but I haven't used it for that much.
Review
Review by: niftydog, 2005-02-22
I've found this to be a pretty good, relatively cheap pulley. Bushings only, so it's not the most efficient pulley out there, but it's small, tough and versatile. Combines well with a Basic ascender to make a non-return hauler. Excellent as the moving block in a gun tackle.
Review
Review by: scubasnyder, 2004-11-24
ive used this pully a few times for hauling some gear and thats probably all its really useful for, or u could use it for a nice zipline, but im not sure how well it would work.