K2 Micro Pulley
Item Details
|
Reviews
(
1
)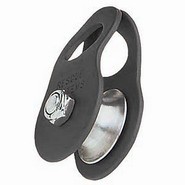 Description
The Bluewater K-2 Micro Pulley is a crucial part of any climbers rack for long routes or wall climbing. Pulling up dead weight without a pulley device is just asking for trouble, and with the K-2 you get a super lightweight device that is worth its small weight in gold. A full size axle bushing with over 6000 lbf tensile strength in a compact size allows you to carry on your harness for quick set up.
1 Review
Review
Review by: whitefingers, 2004-05-31
Its a pulley, whatya want? I dont even know why I bought this.