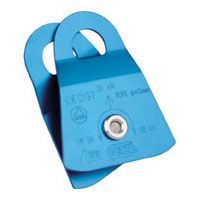 Manufacturer:
Petzl



This item may be available at:
Description
* Suitable for use with a Prusik knot as a progress capture device. * Large diameter sheave mounted on sealed ball bearings specially designed for the highest efficiency. * Can accept up to 3 carabiners.
3 Reviews
Review
Review by: niftydog, 2005-02-22
Smooth, really smooth.

Big, really big.

Protects the rope well and holds the prussiks nicely.
Review
Review by: solonomad, 2004-07-20
This pulley is alright and holds things in line pretty well, with a lot of use though it does start to slip. The cost is pretty high as well. I'd rather use the Petzl simple-rescue pulley as they wear more nicely and are cheaper.
Review
Review by: sarcat, 2004-02-19
Holds the prusiks in a haul line in place nicely. Pursiks should be made of 8mm line so they don't "suck" up into the pully. Where prusiks are not needed I'd use the Petzl rescue pully and keep costs down. It's not a 5 because of the cost.