Ultralegere Pulley
Item Details
|
Reviews
(
2
)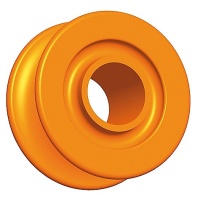 Manufacturer:
Petzl



This item may be available at:
Description
Petzl Ultra Legere Pulley Spring 2010 The Ultra Legere Pulley by Petzl. The ULTRALEGERE is a simple nylon sheave that can be installed on a carabiner.FEATURES of the Ultra Legere Pulley by PetzlSize and weight reduced to an absolute minimum to the make lightest pulley availableFor use with a symmetrically shaped carabiner with rope no thicker than 13 mm in diameterSPECIFICATIONS:Rope diameter: 7-13 mmWeight: 10 gMade in France3-year guarantee.Material: nylonWorking load: 1 kNLogistical information: Sold individuallyLogistical information: Case quantity: x 30
2 Reviews
Review
Review by: adamtd, 2005-03-05
Almost absolutely useless. If you don't have teh right size carabiner with the right curviture, you're screwed. If Petzl made the carabiner hole larger it would make it better. I bought these to carry a couple for selfrescue, but generally when that happens you don't have your pick of biners and I don't carry designated biners for these pullies. They did work all right for my slack line though, but I didn't even need them there.
Review
Review by: nmoroder, 2004-09-19
Nothing special. I carry 2 just in case. Hopefully, I'll never have to use them. The pulley fits perfectly on my Black Diamond ovals.