Blue Water II
Item Details
|
Reviews
(
3
)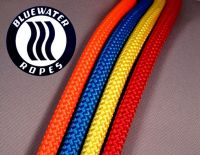 Description
Certified to Meet NFPA 1983 (2001 Edition). Standard for Life Safety Rope. Construction - 100% Polyster Sheath and 100% Nylon Core gives this kernmantal rope exceptional handling qualities. Unique double-twist core gives superior resistance to abrasion that is up to four times greater than other ropes. Blue Water ropes are constructed with shock absorbtion qualities to provide an additional level of safety in the event a shock-force is applied to the line. **WLL - Working Load Limit (also known as Safe Working Load) is calculated using NFPA Safe Working Load Ratio of 15:1.
3 Reviews
Bluewater II Low-Stretch Review
Review by: nh_ranger, 2007-12-25
I got a great deal for 50m of this 11mm line over a year ago and I have never wished I got a different rope. I have heard things about poor knotability, but with its nice, loose sheath weave, this rope knots and holds very well.

With over a year of monthly or more use in northern NH, where almost everything is granite, the sheath is just noe beginning to fray. I would certainly recommend this line to anyone looking for a good quality low-stretch rope. The only negative about it is the lack of an NFPA G rating. If this is really a problem, the BW Safeline is the way to go.
Review
Review by: johnidarmawan, 2006-09-28
No text provided
Review
Review by: niftydog, 2005-02-22
For my needs, this rope is "it". Everyone I work with uses this rope, it's an accepted standard in entertainment rigging. Very tough sheath, puts up with a lot of abuse before it starts to go fuzzy.

One downside; it's not as flexible (hence knotable) as other static ropes such as those from Edelweiss but probably makes up for it in abrasion resistance.

Comes in black as "Assault Line". The ideal rope for that grappling hook you've been dying to use!