Southern Nevada Bouldering
Item Details
|
Reviews
(
3
)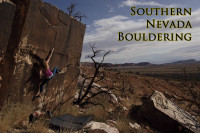 Manufacturer:
Snell Press



This item may be available at:
Description
This book, the only comprehensive guide to the region, describes over 2000 problems in full detail with high quality color photographs of nearly every boulder on 416-7x9" pages. Meticulously researched, this book sets a new standard for excellence with stunning action photos, in-depth information, detailed maps, an extensive history, and an overview of the natural environment of southern Nevada. Set amidst beautiful surroundings, the boulders offer everything from steep gymnastic problems and long pumpy traverses to under-vertical balance affairs and the crimpy lines that Red Rocks is famous for. No longer confined to the Kraft Boulders, climbers now have a wealth of problems to choose from in the Calico Hills and vast canyons of Red Rocks. The book is available at http://www.snellpress.com
3 Reviews
Must have guide!
Review by: trick_climber, 2010-11-20
The amount of information in this guide is astonishing. Not only does the book cover all of the boulder problems in the Southern Nevada region, but it also covers, extensively, the area's history and environment making it a great book for anybody. The high quality color photos and clean layout make this guide of "coffee table" quality. I don't want to get mine dirty!! I highly recommend getting a copy of this book and can guarantee that you will be out bouldering before you know it, it's that motivating. This guide has definitely raised the bar for climbing guides, a new standard has been set and guidebook authors to come are going to struggle to match the quality of this book.
Southern Nevada Bouldering by Tom Moulin
Review by: jurn, 2010-11-19
Captivating on many levels!
Extensive insights into the Southern Nevada bouldering scene, its history, natural history, geology, and archaeology. Amazing attention to detail with glossy, high resolution photos and diagrams.
Southern Nevada wilderness aficionados of all sorts, even non-boulderers, hikers and technical rock climbers, will find that this book, not only enhances their appreciation of this unique environment, but is a veritable work of photographic art!

Joanne Urioste

southern nevada bouldering
Review by: bermanator2, 2010-11-19
Wow, this book is amazing! Tons of pictures and great descriptions. Although I consider myself a local, this book opened my eyes to so many new areas and classic problems. The only real question I have is, "Will I even rope up this season?"