Litheon 36V SDS Plus
Item Details
|
Reviews
(
3
)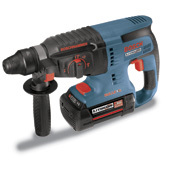 Manufacturer:
Bosch



This item may be available at:
Description
How does a 3/8" x 4" hole in 18 seconds sound - in bullet proof granite? Even with the new batteries getting into their stride I'm seeing 30 holes. Got mine from www.toolauthority.com for $600, comes with two batteries and a rebate for a third. That's going to be well over 100 bolts. Enough for most trips without charging. Recharge takes 45 mins and there's even battery status lights on the batteries to show remaining charge.
3 Reviews
Unreal how light and fast this hammer drill is.
Review by: kvochatzer, 2010-12-25
I may be a little premature on my assessment since I haven't taken it to my next route development project, however I just opened this up as a Christmas present and immediately found a brick and a concrete block to make test drills. It flew through the brick in seconds and in just about as great of speed and ease on the concrete block - even by using my old masonry bit with countless holes logged on it! Hard to believe the short first charge time of about 20-30 minutes. I really like the battery check light and temp gauge on it. Simple and powerful. I'll update after drilling for the short sport route on limestone that I'll be developing soon in Austin.
Compact version
Review by: gprice9347, 2009-10-21
I have the compact version. This drill is sweet. Fast, Light, and easy to use sums it all up. The reason it gets a 4 star rating though is for its short battery life. I can get about 10-13 holes in Hard rock on a charge.
This drill destroys all in its path...
Review by: USnavy, 2009-08-04
This drill completely blows The Annihilator series of drills out of the water. I can drill a 1/2" x 3.5" hole in steel hard basalt in about 10 seconds. The older series Annihilator drill took about 50 seconds to do the same as it only has 1.0 ft. / lb of impact energy and this drill has 2.2. . Bosch was not lying when they stated this was the most powerful cordless drill made.