Pika Rock Drill
Item Details
|
Reviews
(
2
)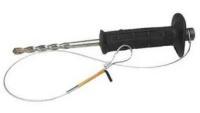 Description
A proven performer on countless big wall and alpine ascents, the Rock Drill is a dream to operate. It accepts standardized Slotted Drive Shaft (SDS) Carbide tipped drill bits. A 1/8" Allen Key is included on a swedged cable, lessening the chance of a mis-drop while changing tools on route. The sticky rubber grip is easy to hang on to, and minimizes vibration while drilling. (Drill bit sold separately)
2 Reviews
Pika Rock Drill
Review by: strider, 2008-01-20
Excellent drill. Well used for over 3 years, it has done it job and done it well. While I have not yet had a problem with the keeper loop coming loose, that area does catch my eye as a potential problem. There is a groove that is cut into the rear of the handle and here a simple wire loop with a swage which is wrapped around this groove. To the naked eye it appears this loop could easily come out of the groove and your drill would be lost. But experience has proved otherwise, I have not lost the drill and nor has my partner, who has had his for 9+ years. My one improvement would be a more confidence inspiring keeper attachment.
Review
Review by: aulwes, 2004-09-08
I've never used the Rocpec so I can't compair the two.
The Pika can get the job done. One drawback I've noticed is the the keeper cable may loosen up and come off.