Rocpec hand drill
popular
Item Details
|
Reviews
(
5
)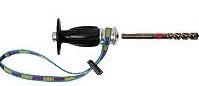 Manufacturer:
Petzl



This item may be available at:
Description
ROCPEC Drill for SDS power drill bits The Rocpecker is a drill which allows the use of SDS power drill bits. The installation and removal of the bit is very easy and requires no tools. It allows holes of different depths and diameters to be drilled for the placement of all types of anchor for climbing or caving. Specs : Weight: 198 g Standards : Ref.# :P26
5 Reviews
Review
Review by: superbum, 2005-09-19
great drill, perfect for my hand size and the gaurd has saved my fingers many times!
Review
Review by: tces550, 2004-08-02
A put a lot of bolts drilling by handpower and i buy by the petzl good name around the world and i said, this do not hold for the nessesary time, very poor comparind the others made by local blacksmiths.
Review
Review by: sarcat, 2004-05-25
Only hand drill I've used so can't compare to the others. I like this one well enough when I HAVE to use a hand drill. Good knuckle protection. I question how long it'll hold up.
Review
Review by: scubasnyder, 2004-02-09
So far this drill is pretty good, no allen wrenches for changing bits, lanyard that i never use, and it has a little hole in the but of the handle to store the bit in.
Review
Review by: philbox, 2003-05-05
I`d give this drill a higher rating if it came with batteries. For a hand drill it has everything that goes with the deal like a wrist leash so that losing it into the void becomes less of a possibility. I like the protecting shroud for prevention of the hammer bashing the knuckles. Changing drill bits is fairly easy. Not much more to say really.

...Phil...