Pacific Wall Hammer W/ Funkness Device
Item Details
|
Reviews
(
1
)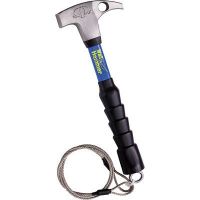 Description
Omega Pacific's great Wall Hammer sinks pitons and heads with ease, and the cable can be used for removing pins or as a leash. Pure funkness.
Features:
Head is made of cast 17-4 stainless steel for durability and just the right amount of heft, to drive pins and set heads with fewer blows
Ribbed rubber handle and fiberglass shaft dampen even the hardest of blows
Large biner hole accepts the biggest of carabiners
Funkness device can be used to test pieces, remove stubborn pro, or as a leash
Specifications:
Weight: 921 gm
Length: 33 cm
Head material: 17-4 stainless steel
Shaft material: Fiberglass
Grip material: Rubber
1 Review
Review
Review by: chuffinator, 2004-04-17
this is a great hammer for equipping routes. It heavier than the BD Yosemite hammer but requires less blows to drive bolts in. The rubber handle and funkness device make this hammer a five in my book.