Extractor Nut Tool
Item Details
|
Reviews
(
2
)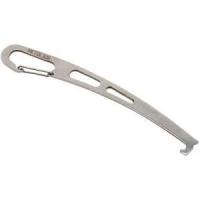 Manufacturer:
Metolius



This item may be available at:
Description
The Metolius Extractor Nut Tool offers all the features you need to get your gear out of the crack and back on your rack A wire-gate carabiner is built into the handle for ultimate convenience and hardened 420 stainless steel makes these the toughest nut tools you can buy. The business end is precision ground to a thin taper for retrieving the tiniest micro-nuts. PRODUCT FEATURES: The ultimate refinement of the classic nut tool Built-in, wire-gate carabiner Unique curved design lets you get behind the nut to hook and pull Hardened 420 Stainless Steel Hooked Nose is perfect for cam trigger bars Tapered to work on the tiniest nuts EXTR001 , METOLIUS EXTRACTOR NUT TOOL , METOLIUS , EXTRACTOR , NUT TOOL , protection , rock climbing
2 Reviews
Good tool to have
Review by: desert_gold_hound, 2008-05-09
This tool now has a Ergonomic Protector. This is realy nice on the palm the company states this peaice like this "Ergonomic protector lets you hammer comfortably on the Freenut with the palm of your hand". I purchased it becouse of this. The only con I see is with the bilt in wire gate it could be built a little stronger.
Review
Review by: blake_wrinn, 2006-06-07
No text provided