Shark Nut Tool w/ Knife
Item Details
|
Reviews
(
3
)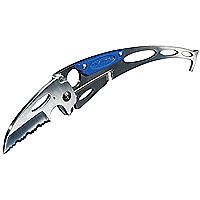 Manufacturer:
Trango



This item may be available at:
Description
The Trango Shark combines two useful and common climbing tools into one: a beautiful swept handle, stainless nut tool, and a razor-sharp knife. The blade is machined from surgical quality 440-C stainless with a serrated bladeperfect for sawing through the wad of slings thats keeping you from clipping that fixed pin. While the locking blade can be opened and closed with one hand its absolutely impossible to open when clipped to a carabiner.The Shark uses a side-lock mechanism to hold the blade in place once its open. To close the blade, gently push the side locking mechanism out of the way way of the blade. When a full-size carabiner is through the carrying hole the blade can not accidently open. Be sure that your carabiner is large enough that the point of the blade is not exposed when you are carrying it.
3 Reviews
Review
Review by: socialist1, 2005-04-23
This guy is great. Knife is sharp and safe. Worked great when cleaning manky rap anchors... the nut tool is a good standard design. The designers could have lost a little weight in the body IMO.
Review
Review by: kimgraves, 2004-12-27
I looked at this tool and decided not to buy it. It just didn't feel good in my hand. It was also thicker than other nut tools – I was afraid that might be a disadvantage. One cool thing is that you can open it like a gravity knife by holding on to the handle and flipping it. Good for knife fights! My current nut tool has a clip on it. I find I use that clip to clip it somewhere without having to have a biner. I think I'd miss that feature. So I passed and bought the new Trango Piranha instead.
Review
Review by: climbingnurse, 2004-12-02
Simply brilliant! It has everything I want in both a nut tool and a climbing knife.

Nut tool:
-Does not bend. I hate those flimsy POS's that bend when you hit them with any force.
-Opens beer bottles
-Made of surgical steel

Knife:
-Locks both open and closed
-Sharp as hell (and serrated)
-Down-turned point (makes it harder to stab yourself or the person you are cutting a harness off of)
-Made of surgical steel