Next

Epic Stick Clip Kit
Item Details
|
Reviews
(
11
)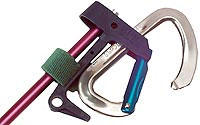 Manufacturer:
Other



This item may be available at:
Description
The Stick Clip fits most biners.

Includes a 9-foot folding pole.
7075-T9 high quality shock-corded pole
Folds to 18 inches
11 Reviews

Write your own Review


Read all 11 reviews
Epic Clip Works Great
Review by: kdwight, 2011-02-13
This handy little gadget works great... if... you improve the design. I took a standard 8' painters pole, added a crutch foot for traction as a walking stick, a bike grip for comfort near the top with hiking, I shaved the top of the threads of the roller attachment to fit the tapered nature of the Epic. I drilled an 1/8" hole in the back of the clip and through the paint pole. Added a flush head aluminum pin (like one out of an old external frame backpack) with a cotter ring on the back. These few mods and some practice make this clip fantastic for clipping, and YES, with practice, unclipping biners. Call me BASF. I don't make the Stick Clip, I make it better. Try it. I've only broken one tip in 12 years. I dropped the pole on approach and it broke my Epic. Replacement still kicking hard! Don't be mislead by poor reviews. This thing is worth the $$ and time. Epic idea and device. Thanks Epic, you make a well engineered plastic thingy.
review
Review by: kricir, 2008-07-07
don't waste the money. The cheap plastic might work for a little while, but it wears out quickly. Get something made out of metal.
Review
Review by: alleyehave, 2005-11-13
A little touch with Petzl Spirit quickdraws, but other than that, light and handy!
Review
Review by: biff, 2004-08-25
Although I don't own one of thse, many of my friends do.

I don't think it is worth the money .. I would rather use a stick, some tape and a twig to keep the biner open. This device doesn't work well on petzl spirit draws becuase it relies on the little metal rivet on the outside of the gate that cathces on the notch to keep the biner open. Many times I have had the gate close before the draw was in place beacuse the plastic gripper slipped off the rivet.
Review
Review by: rockmaninoff, 2004-08-21
This product can be used not only to clip the first bolt, but in a pinch can be hauled up the wall to clip and jug past a crux that's over your head. I bought only the functional end, not the pole. I use an IV pole from work instead. Works well with metolius, BD, and bluewater draws. Don't use it much, but I bring it along if climbing near my limit.