Previous
Squid Stick Clip
Item Details
|
Reviews
(
10
)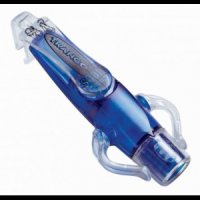 Manufacturer:
Trango



This item may be available at:
Description
The Squid a is a stick clip which does an elegant job of clipping out-of-reach bolts and allows you to UN-CLIP 'biners from those same bolts. If you don't believe in karma, the Squid can pay for itself in recovered draws in just a few days: for the karma conscious, the Squid will load up your karma bank faster than you can help a little old man across the street. "Fingers" at the end of the pivot-arm grab the gate and open it with a pull, letting you take the 'biner out of the bolt. If the draw is already hanging, a clever set of arms will hold your rope so you can clip it into the draw. Be careful though; in some states you could be busted for possession of burglary tools.
The Squid will work with any standard paint pole. We recommend the 8' 2-piece Mr. LongArm ProPole. The pole needs to be stiff; the Squid will not work with a tent pole.
Patented.
10 Reviews

Write your own Review


Read all 10 reviews