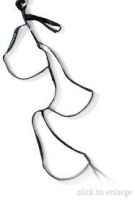 Description
Made from tough one-inch flat webbing, our Etrierís steps are reinforced with plastic strips that hold them open for easier stepping. Each one has a top-point reinforcement and a grab loop. Super-burly and versatile, Etriers are offered in five- or six-step versions. Sold separately for mixing and matching.
4 Reviews
black diamond etriers
Review by: desertdude420, 2007-04-05
TWISTY! But then again, aren't they all frustrating when you're "sketching" on the sharp end!
Review
Review by: afiveonbelay, 2005-09-29
twisty steps. ok for starters or backups
Review
Review by: rockmaninoff, 2005-02-23
Gets the job done. I prefer the staggered step design over H-shaped steps. Durable and well-made.
Review
Review by: far_east_climber, 2004-07-23
Good and burly. Although they do have the problem of the steps twisting inwards.