Russian Aiders
Item Details
|
Reviews
(
1
)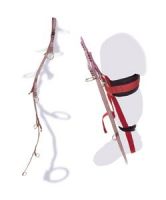 Manufacturer:
Fish



This item may be available at:
Description
Russian Aiders make top stepping sooo much easier it is almost cheating. The cuffs fit snugly at ones knees and the hooks on the cuffs fit into the rings on the ringtrees. This system has to be experienced to believe how well it works. Note that Russ is still developing this item and may or may not be available at time of posting this product. But they oughta be.
1 Review
Review
Review by: tim, 2004-02-19
Russians make topstepping criminally easy and free climbing a natural transition. Hooking the loop of an Alien for those critical extra inches is a glorious feeling, and clipping the cuffs to the aid-tree for a caving-style (Frog) free hanging jug works too. Bounce testing is done by clipping the nearly-invisible loop behind the hook, to the end of the testing aid-tree, and kicking like a mule. All in all I am extremely happy with my set and recommend them highly to anyone who is doing a wall.