SMART AIDERS
Item Details
|
Reviews
(
1
)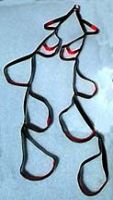 Manufacturer:
Fish



This item may be available at:
Description
FISH Smart Aiders come with two 5-step aiders per pair. Each aider has a sub step sewn into the second step, where most of the action will take place. Unless you are on a slab, that kookie step in the top of other aiders will be virtually impossible to use. When you find yourself on the steep stuff, the second step will be home 90% of the time. If you need a little more height to reach an out of reach placement, step into the sub-second step on your FISH Aiders. Voila! The extra height---and that A7pitch---are in the bag. Nice job! Smart Aiders come in assorted colors and have step stiffeners sewn in to keep 'em open when you need 'em, and sport more bartacks than most third graders can count. For 2001 we are now putting all the steps on the same side. try it, you'll like it! $47.00 per pair or $50.00 per pair with grab-loops sewn into the top.
1 Review
Review
Review by: coylec, 2004-05-30
The new ones are one sided. I thought they'd be a pain in the arse, but they are awesome! Three cheers and buy Russ a beer. Lots of bar tacks. They even fold up great (much better than my yates aiders). the only drawback is that they don't have step stiffeners. for the most part, it didn't matter, but every once in a while, i wished they had 'em. Will be mod'ing with duct tape, should solve the problem.