Spectra Daisy Chain
Item Details
|
Reviews
(
6
)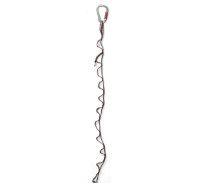 Description
Black Diamond Daisys are made with 2-inch long pockets with double bar tacks between each pocket for extra strength. The bottom loop has been sewn with a half-twist for easy girth hitching. Available in two lengths and in two materials. Colors: Assorted.
*Light, high-strength, low-bulk daisys *For big wall, multi-pitch & crag climbing *Bottom loop sewn clean for girth hitches
6 Reviews

Write your own Review


Read all 6 reviews
Review
Review by: z_rock90, 2005-10-02
light weight easy to use, a must have to all sport climbers.
Review
Review by: speedywon, 2005-01-16
Nice lightweight, durable daisy chain.
Review
Review by: byrdman, 2005-01-13
No text provided
Review
Review by: rockmaninoff, 2004-12-12
A practical tool that makes many aspects of climbing much more convenient. (a personal aside--back it up!)
Review
Review by: climbinginchico, 2004-07-30
I can't complain at all about this daisy. It works perfectly for what it was designed to do. I like the half twist in the end loop for girth hitching to the harness. Light enough that I never find it in the way or annoying. I use a positron locker on the end to eliminate snagging.