FinAnneau Dyneema Sling -
Item Details
|
Reviews
(
3
)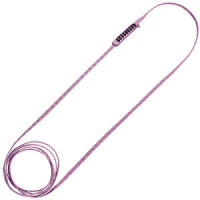 Manufacturer:
Petzl



This item may be available at:
Description
The Petzl FinAnneau Slings thin 8mm diameter reduces bulk on long routes where you need to carry a dozen or more. Their low weight allows you to bring a few extra to reduce rope drag on those meandering pitches. Thanks to Dyneema material, the Petzl FinAnneau Sling soaks up very little moisture, so you can take them into the mountains without risk of their becoming popsicles at the worst possible time.
3 Reviews
Review
Review by: zoso137, 2006-03-20
No text provided
Review
Review by: alleyehave, 2005-11-13
Stiff and a bit short, but nevertheless useful. Since I got it on sale I can't really complain!
Review
Review by: mr-pink, 2004-10-24
they really aren't the best runners, far to stif, hard/sharp edges. gives you scratches: very irritating.
and for what i use them, as a lifeline, they are to short.