Titan Runners
Item Details
|
Reviews
(
5
)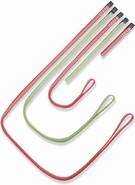 Description
Since BlueWater developed the first Titan runner twenty years ago it has been widely copied but never equalled. The Titan runners continue to have the highest strength rating in the market. We bartack them in our own sewing department with custom Spectra thread for maximum strength and durability.
5 Reviews
strongest on the market
Review by: tallmark515, 2006-12-04
Low price! Spectra. 27kn???!! damn that's some strong stuff. I own lots, even though they are a little stiff.
Review
Review by: blake_wrinn, 2006-06-10
the best thing, oh! except the MASSIVE strength, is the variety of sizes and colors! it lets you buy the stongest runner on the market while giving you more choices to fit your wants and needs. good price too!
Review
Review by: onbelay510, 2005-01-25
Shaves some bulk over standard runners. Easier to work with and very strong
Review
Review by: mrhungus, 2004-08-03
They are great. Very strong. I would like to get longer ones, the only drawback may be that they are heavier and bulkier than other runners I've used. This is no problem for me though. Also they are pretty cheap.
Review
Review by: omenbringer, 2004-07-14
A very durable runner. They come in a variety of colors, so color coding your runners is easy. Though they may be 13mm, almost twice the size of the sleek new 8 mil mamuts, they are stronger and more durable due to the increased amount of nylon on the edges, almost 1 1/2 mil on each side as oppossed to the mammuts which have spectra all the way to the sides. If you carry a lot of "trad draws," in excess of 10, the decreased bulk of the Mamuts will out shine the BW, though if you carry most of your runners over the shoulder you'll hardly notice. Weight savings between the two are negligible. Price for these depending on size is about $2.00 to $4.00 cheaper then the Mamuts but about $1.00 to $2.00 more than nylon