Shock Absorber Dyneema 16mm
Item Details
|
Reviews
(
1
)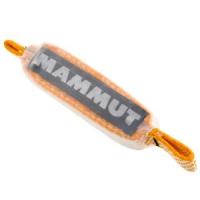 Manufacturer:
Mammut



This item may be available at:
Description
For thin ice, small gear, or places where protection is questionable at best, clip into the Mammut Dyneema Shock Absorber. This quick-draw-style runner features an exterior coating that holds a folded over runner. When fall force exceeds 2.5 kN, the tiny seams holding the runner together tear, lengthening the runner to full size and reducing fall factor by 30. With a sketchy piece of gear or a screw in unstable ice, 30 could mean the difference between a whipper and a body bag.
1 Review
Review
Review by: forkliftdaddy, 2006-01-11
Activates at a higher force than a screamer, not as strong when fully ripped, tends to slip through the sheath is weighted with body weight. Light though. Clear shell is kinda nifty. Won't replace my screamers.