Primo 50 foot slackline
Item Details
|
Reviews
(
1
)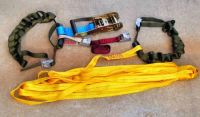 Description
Up to 50 foot slackline that is beginner friendly but fully capable at satisfying the experienced slacker. This kit is able to set long and tight, or short and loose slacklines solo, even easier than our previous setups (the same ones that received so many extremely high acclaims in our gear reviews), our Primo Slackline is a great step forward. What is so nice about it? Well, it is lighter, is more powerful, has more standard features and costs less than similar features on our classic setup. It also has 20% higher level of mechanical advantage than our older 50 foot system which already had more advantage than any other slackline on the market.
1 Review
Best slackline deal!
Review by: Climbin4Vs, 2007-05-04
Probably one of the best prices out there for a primo slackline kit. The entire product is amazing and of high quality. The first few runs the rope did tend to loosen, but that was expected. I highly reccommend buying the additional tree padding, it's worth the price and just makes life easier. If you're looking to slackline and sick of using carabiners this is the way to go. The instructions that are provided are helpful and give some awesome tips.

The service was excellent as well. Joe was helpful and even offered to make a specialized product for me for hiking trips.