Adjustable Double-D Gear Sling
Item Details
|
Reviews
(
8
)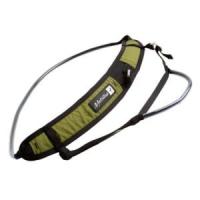 Manufacturer:
Metolius



This item may be available at:
Description
Rack up for a big wall or a massive aid pitch with the Metolius Adjustable Doubl-D Gear Sling. This ergonomic sling features a padded shoulder section and poly tubing over the clipping sections to keep biners from snagging. An adjustable aluminum buckle makes for easy adjustments depending on your load.
8 Reviews

Write your own Review


Read all 8 reviews
Review
Review by: everythingelse, 2005-11-02
feels great and first my slowling growing rack perfectly,
it takes a little while to adjust it right and figure out exactly where everything goes and so on
but still wonderful peice of equipment
smaller and bigger loop very cool

love it
Review
Review by: onbelay510, 2005-01-03
This gear sling is really comfy. The sectioned loops distribute weight more evenly than the old design. I didn't like the extra loop at first but you just have to configure it so that it works for you.
Review
Review by: omenbringer, 2004-07-14
After looking and trying several different models of gear slings; doubles, singles, and full on chest harnesses, I found that I liked this one the best. The compartmented gear loops make it easy to keep everything organized, though, I would perfer smoothe nylon webing instead of the tubing that covers it when you buy it. The padding is very nice and the ergo design really helps with the pain that usually acompanies these things. The easy on easy off design is great at belay stations where you take it off and hang it off the anchor. The biggest downside is that the gear sling can get in the way when chimneying and has an uncanny ability to swing while climibing overhangs, but then again most of them have this problem. If you are not carrying a huge rack i.e. 2 sets of cams, 3 sets of stoppers, full set of hexs and tricams, this is the best bet for a gear sling.
Review
Review by: sarcat, 2004-06-18
I had just the Double-D and purchased the other side for $6.50. I like the add on because it makes the sling fit tighter so it dosn't slip around.
Review
Review by: dredsovrn, 2004-05-24
I just couldn't make this one work well. I found my gear got jammed up in the smaller loops. Seemed like a great idea, but something was always getting clipped to something else. Well made, but not for me.